The world's first sanitizer and shock treatment combo.
One Tablet is All You Need
One Shock is the world's first sanitizer and shock treatment combo tablet. No mixing or measuring required!
Less Dangerous Chemicals
One Shock tablets contain the minimum amount of dangerous components and active minerals needed to keep your spa crystal clear.
Easy & Effective
Add one tablet of One Shock after each use to maintain a healthy and bacteria-free spa.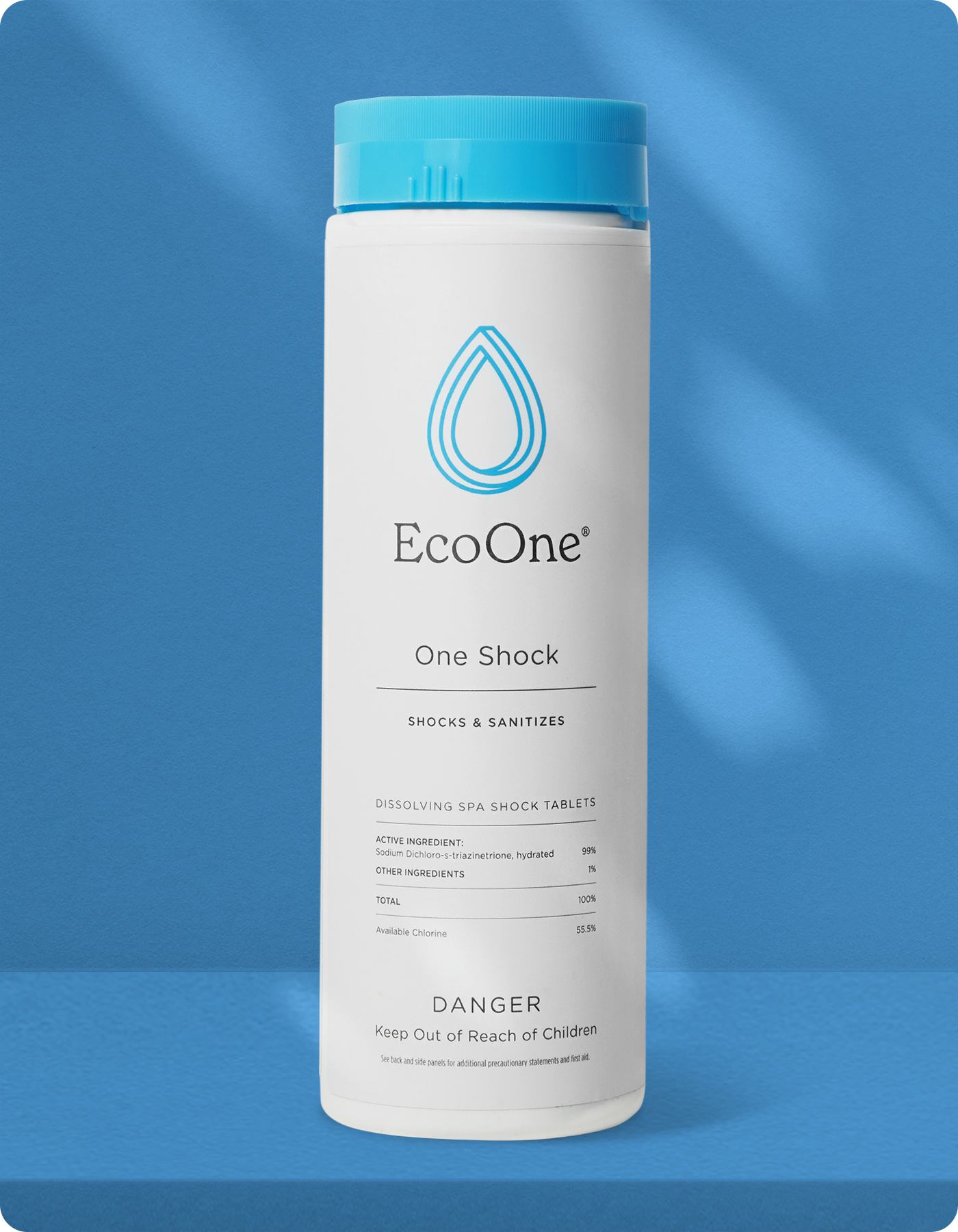 How to use One Shock.
To sanitize:
With jets running, toss one tablet of EcoOne One Shock directly into spa water or filter compartment. Wait 5 minutes and check chlorine/sanitizer levels. It should read between 2 to 3 ppm.
To shock:
Add two tablets of EcoOne One Shock to your spa for every 450 gallons of water. Thoroughly clean spa filter and rinse clean.
One Shock FAQs
Is One Shock the only product I need to keep my spa or hot tub clean?

We recommend a more holistic approach to maintaining your spa that includes filling your spa with filtered water using our Hose Filter, sanitizing your spa after each use with One Shock, conditioning your water monthly with Spa Monthly, and regularly cleaning your spa's pipes and filter with our Pipe Cleaner and Filter Cleaner. A great place to start is with our 3 or 6-month Maintenance Kit. And if your spa is particularly dirty give our Deep Clean Kit a try!
Will One Shock help if my spa or hot tub water is green?

It might, but it depends on why your water is green. Green water can be a result of two things: First, a tint of green where the water is relatively clear is too much copper and can be treated with a "metal gone" product. We also recommend filling your spa with our Hose Filter. Second, green water with significant opacity is algae especially if there is a noticeable odor. You can kill the existing algae with One Shock but you will still need to deal with the organic debris causing the algae. In this case it is best to drain your spa and use Pipe Cleaner and Filter Cleaner to remove all the algae and source contaminants. Refill your spa with our Hose Filter and add two tablets of One Shock while the water comes up to temperature. Add One Shock daily for a week to make sure the algae is completely eliminated.
How big are One Shock tablets?

Each tablet is roughly the size of a quarter in diameter, ⅔ inch deep, and weighs ~14 grams.
Do you offer different size tablets of One Shock?

Currently we only offer one size tablet. If you need less you can break a single tablet up into smaller pieces. Alternatively, if you need more you can use more than one tablet depending on the volume of water you're treating.

Think beyond the backyard.
Our skin- and planet-friendly products were made for our world and your family.
No-sweat spa care.
Check out our Spa Care Guide to learn how you can care for your spa, your skin, and the planet all at once with EcoOne.
Looking for something else?