For water that's just right.
Perfectly Balanced Water
Increase the pH of your water and achieve a true neutral water in your spa.
Safe for Your Skin
Using a proprietary blend of natural and biodegradable ingredients we never use chlorine, phosphates, or other irritant chemicals that can cause itchy skin or red eyes.
No More Cloudy Water
pH Plus helps neutralize your spa's water and leaves your skin feeling better and keeps your spa in tip-top condition.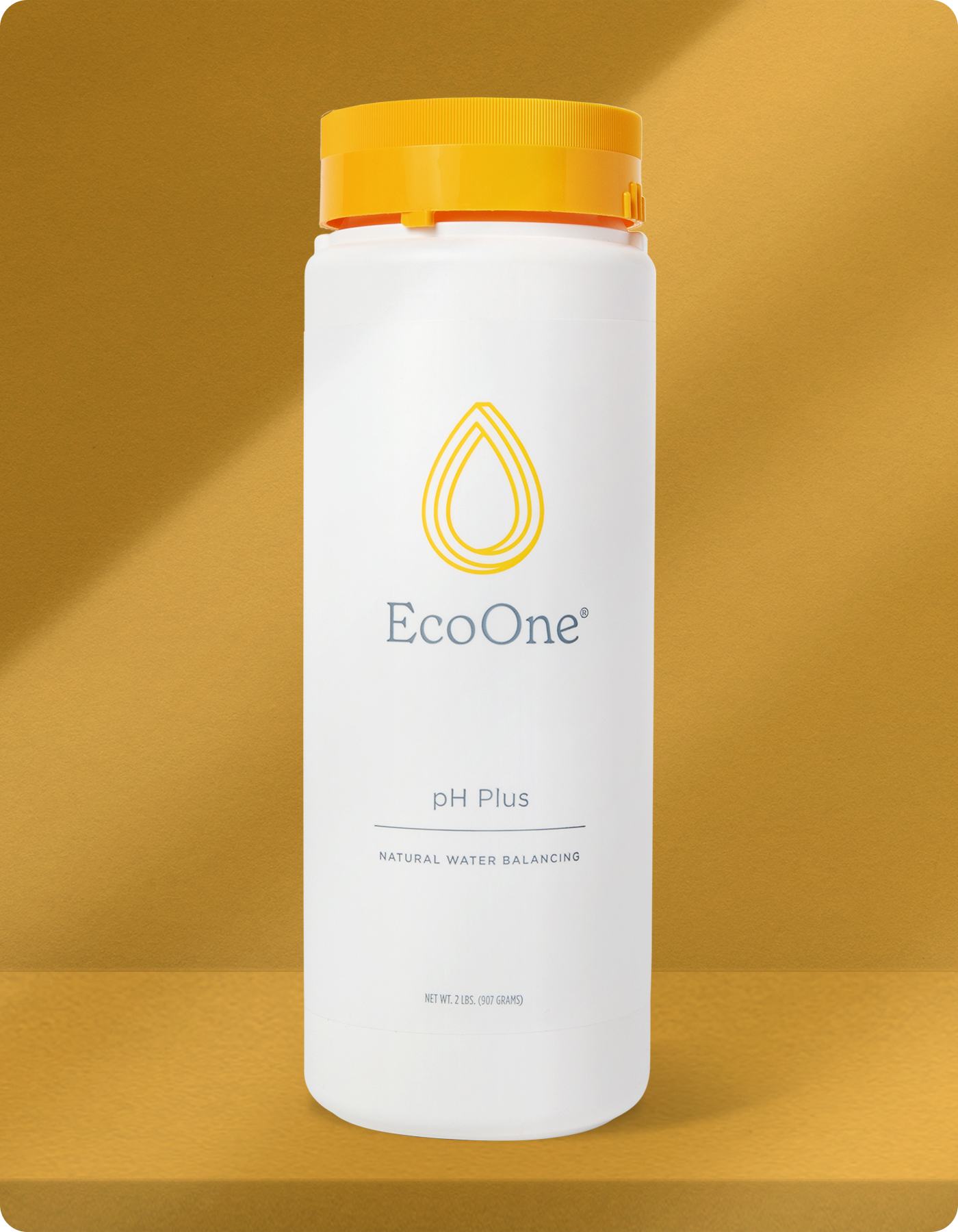 How to use EcoOne pH Plus.
Before beginning, ensure your pumps are running and water is circulating.
Step one:
Test the water pH level with your preferred pH strips.
Step two:
If the pH is lower than 7.4, dissolve two ounces (four tablespoons) of EcoOne pH Plus in a small amount of water.
Step three:
Add the pH Plus mixture directly to your spa.
Step four:
Allow the water to circulate for several hours and retest.
Step five:
Repeat this procedure until pH is in a desirable range (between 7.4 and 7.8).
pH Plus FAQs
What exactly are pH levels?

When you measure your pH level you are measuring the relative acidity and alkalinity in your water on the pH scale. The pH scale is numbered from 0-14 with a value of 7 being considered neutral or balanced.
What is the correct pH level for my spa or hot tub?

Ideally your spa or hot tub should have a pH level between 7.4 and 7.8. A value below 7.4 indicates that your water is too acidic. Acidic water can lead to skin and eye irritation, can cause your sanitizer to be less effective, and can ultimately damage the internals of your spa. A value above 7.8 indicates your water is too alkaline (basic). Water that is too alkaline can contribute to scale build-up and foamy or cloudy water. Keeping your pH levels balanced creates a more comfortable soaking environment, avoids scale and calcium build-up, and will keep your spa free from corrosion.
What exactly is Total Alkalinity?

Total Alkalinity is the measurement of dissolved alkaline substances in water. It helps control the pH level and acts as a barrier against changes to your water's pH, so it must be balanced correctly.
What is the correct Total Alkalinity level for my spa or hot tub?

Ideally your spa or hot tub should have a Total Alkalinity level between 80-120 mg/l ppm. Levels above or below this range makes balancing pH levels challenging. A value below 80 mg/l ppm can cause your water to become corrosive and acidic and even stain or damage your hot tub surfaces. Algae may bloom if Total Alkalinity drops which can cause you discomfort. A value above 120 mg/l ppm can cause your water to become cloudy and allow scale to grow on surfaces and equipment.

Think beyond the backyard.
Our skin- and planet-friendly products were made for our world and your family.
No-sweat spa care.
Check out our Spa Care Guide to learn how you can care for your spa, your skin, and the planet all at once with EcoOne.
Looking for something else?