Give your water a fresh start.
Eliminate the Most Harmful Contaminants
The EcoOne Hose Filter eliminates or reduces most harmful contaminants such as heavy metals, arsenic, VOCs, and others.
Compatible With All Water Types
Whether you have well water, city water, hard water, or soft water, the EcoOne Hose Filter is up for the job.
Purifies Up To 40,000 Gallons
With a lifespan of ~40,000 gallons the EcoOne Hose Filter should last a lifetime.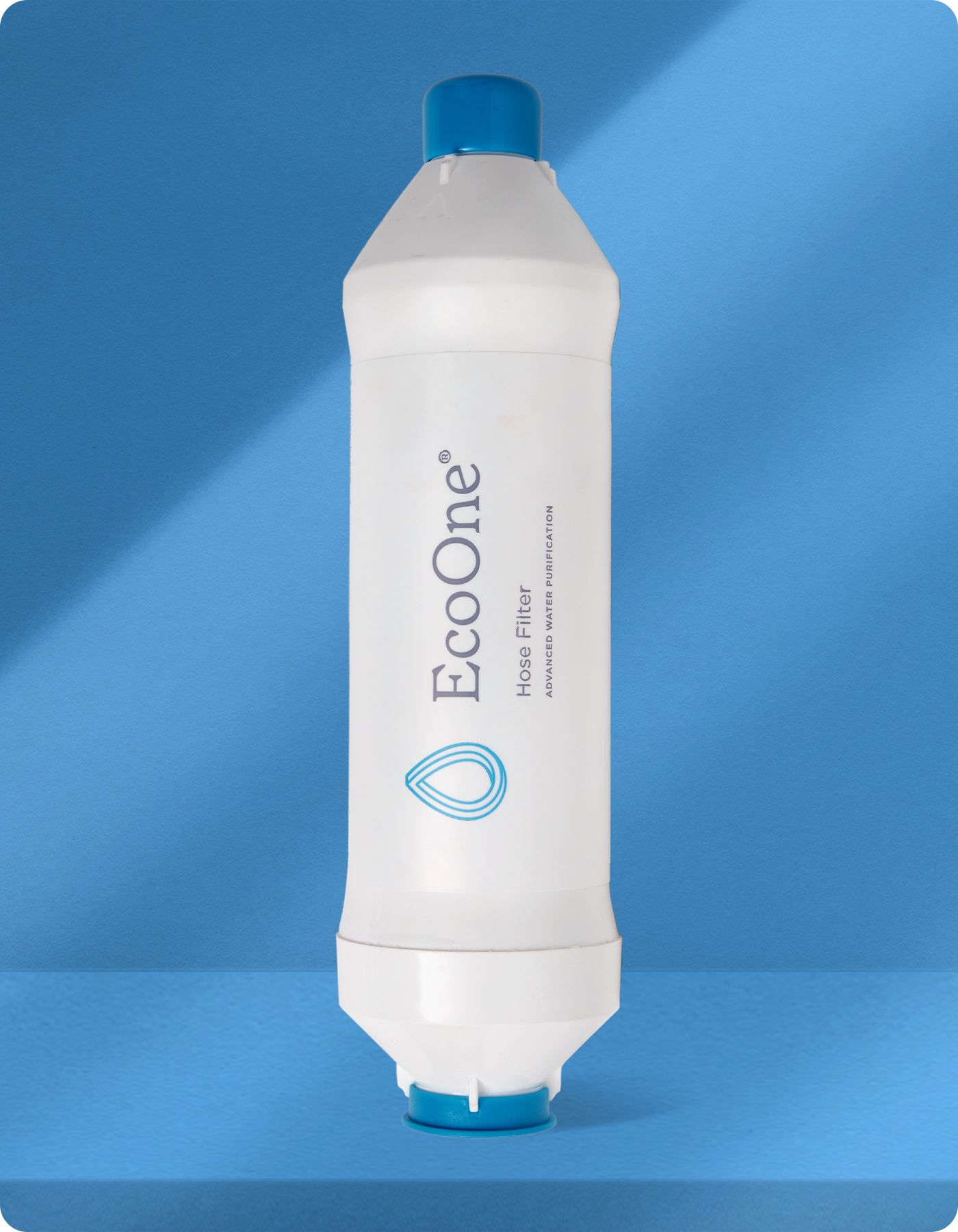 How to use the EcoOne Hose Filter.
Step one:
Flush garden hose before use to remove contaminants.
Step two:
Attach EcoOne Hose Filter and flush for one minute or until water runs clear.
Step three:
Fill spa to desired water level.
Step four:
Remove the EcoOne Hose Filter from your hose and replace both caps (do not allow filter to dry).
Hose Filter FAQs
What does the Hose Filter remove from my water?

Our Hose Filter removes the following:

Heavy metals: barium, cadmium, chromium III, chromium VI, copper, iron, lead, mercury, and selenium.
Other contaminants: arsenic, chlorine and its byproducts (THMs), hydrogen sulfide ("rotten egg" smell), endrin, fluoride, lindane, methoxychlor, nitrate, silvex, toxaphene, and volatile organic contaminants (VOCs).
What is the working pressure of the Hose Filter?

The working pressure range is 20-100 psi depending on the water pressure being supplied to your hose.
Does the Hose Filter remove nitrates?

Yes, our Hose Filter leverages a dual stage natural carbon filter which will remove nitrates from your water.
What size hose does the Hose Filter fit?

Our Hose Filter fits standard garden hoses which are typically ⅝ inch in diameter. You can use an adapter if your hose is a different size.
Why do I need to store the Hose Filter with the caps on?

Storing the Hose Filter with the caps on ensures the filter media stays moist which extends its life.
How long does the Hose Filter last?

It depends on how much water you filter through it, however our Hose Filter is rated for up to 40,000 gallons of filtered water.
Think beyond the backyard.
Our skin- and planet-friendly products were made for our world and your family.
No-sweat spa care.
Check out our Spa Care Guide to learn how you can care for your spa, your skin, and the planet all at once with EcoOne.
Looking for something else?